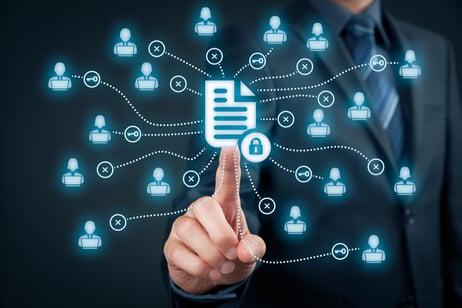 Is your office multifunction printer a security risk? With the increase in data theft and security breaches now affecting small and large organizations, most are taking proactive measures to mitigate risk by tightening their security measures – including their office MFP.
As technology has advanced, multifunction printers have evolved into sophisticated devices that have embedded web servers and the capability to connect directly to host applications and cloud-based software. While these features are certainly advantageous to companies, the amount of sensitive information that passes through an MFP makes them popular targets for data theft.
"90% of companies have experienced a security breach in the last year from hardcopy documents alone." - Fortune
Fortunately, there are solutions for securing your documents:
1. Secure the MFP
One of the most effective ways to secure the MFP is to manage user access via passwords and swipe cards. As an added precaution, you could even take advantage of follow-me or pull printing practices, which prevent unwanted eyes from perusing confidential data in the output tray; essentially creating an audit trail for how documents have been distributed and protected.
2. Secure Mobile Printing
With mobile devices playing such a prominent role in today's workplace, many employees want the capability of printing from mobile devices. However, considering the increased security risk that this can create, it's important to incorporate the user authentication measures that are mentioned above and offer varying levels of access to specific employees. Despite the popularity of the BYOD trend, organizations need to make intelligent decisions about who can access their MFP.
3. Secure the Hard Drive
Each MFP has an internal storage device that may contain highly sensitive data that has been copied, scanned or printed. While physical theft of the hard drive is one concern, another is having a malicious character virtually access the confidential documents and data stored on the hard drive. Taking advantage of encryption features can help protect this data in the event of physical or cyber theft. Other important features to have on your MFP include automatic disk wiping and log wiping to dispose of sensitive data. For those replacing an MFP with a new one, it's also critical that the information on the existing device be thoroughly removed or destroyed to prevent extraction once the MFP has left your facility.
4. Secure the Network
MFPs have essentially become computers with a printer engine. This makes them vulnerable to hacking, viruses and other security breaches just like your networked computer. For this reason, it's critical that you secure your MFP like any other network enabled appliance. All MFPs should be placed behind a firewall, and SSL encryption should be used for the web interface. This is also why some MFPs now come with recognized security software like MacAfee to minimize risk.
In order to effectively secure documents at the MFP, it's also important to educate your users about your compliance practices to help ensure the security of your network.
Risk mitigation and security protection are fast becoming a top priority for business leaders who realize an ounce of prevention is undoubtedly worth a pound of cure. For more information and best practices you can deploy to protect your sensitive documents at the MFP, ask your Green Office Partner representative about their solutions now working for hundreds of clients throughout the United States.
How secure are the documents in your office? Taking proactive steps to protect your confidential hard copy and digital documents is easier than you think with our new Document Security Checklist. Click here for your complimentary copy!