Welcome to the Sunrise Senior Living Website... 6 reasons you will smile!
Ensure that our employees are fully trained on the printers & MFPs (multi-function printers).

Streamline the onboarding & training of new employees with a series of short "how to" videos and user guides.

Standardize our equipment strategy to standardize our fleet on machines to maximize productivity at the lowest cost.

Single resource for submitting maintenance requests, order recycling box ... but no need to worry about the toner cartridges because they will be automatically shipped!

Leverage the HIPPA certified technology to send patient data via direct messaging - no more fax!

Protect our environment with a greener approach to printing. For every tree "printed" (8,333 pages), Healthcare Partners will re-plant a tree in conjunction with a global program to fight deforestation.
Sunrise Assisted Living Printing Guidelines:
COLOR - Sunrise Assisted Living staff is requested to only print color on customer facing documents. Color printing is monitored per employee.
DOUBLE SIDED (DUPLEX) PRINTING - Sunrise Assisted Living staff is requested to print double sided documents when possible.
PAPER - Sunrise Assisted Living staff is requested to use inexpensive copy paper for internal use.
CONFIDENTIAL DOCUMENTS & AND DESTRUCTION - To protect our clients' confidential information as well as compliance with various industry regulations, Sunrise Assisted Living employees must use the secure print feature when printing to ensure document security. All unwanted documents must be inserted in the document destructon box immediately.
NEW EQUIPMENT - To standardize equipment, Sunrise Assisted Living is offering 4 different models. See below.
Introducing the "Sunrise Senior Living Workplace Assistant!"
Xerox has basically combined a copier, printer, computer into a single device which will be customized just like your iPhone to meet the needs of every department at every location!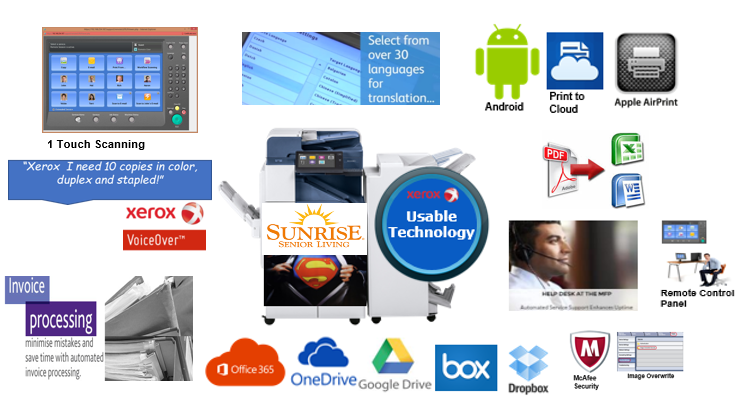 In addition to direct messaging, here are our favorite 10 ideas that we will roll out...
Use your voice to control the Xerox machine. Certainly this will be a highlight of the tour to show the patient and their family that they can make a copy of their family photo by simply using their voice!
Print brochures, intake forms, floor plans, housekeeping checklists, and medical forms from any machine!
Staff and guests can securely print from their phone of tablets!
Increase sales by translating all of your documentation to the patients native language… in seconds!
Convert paper into a Word/Excel document that can now be edited!
Scanning to your email or a group of people literally in a click of a button!
Control color & usage by employee!
Submit maintenance request right from the machine!
Streamline the HR onboarding process of new employees right at the MFP!
Scanning 50 invoices into their accounting system right at the Xerox!