Given the costs, inefficiencies and security issues that come with having too many paper-based processes, it makes a lot of sense to start transforming your paper workflows into more digital ones. You can do that in a number of different ways.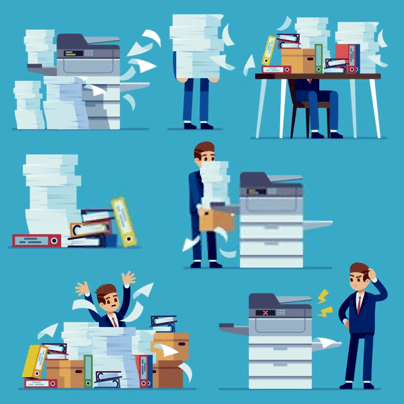 You can connect your print infrastructure to digital applications and cloud systems like Dropbox and Google Drive so it's easier for users to print files from all the places they're being stored.
You can simplify mobile printing so sales people are free to print from the road, and customers are free to print from offices.
You can use your printers to automate workflows between different systems, for seamless connectivity across projects. For instance, you can automate many of the steps in an invoicing process by ensuring files get sent to the right folders and people as soon as they're scanned.
But before you get into the specific changes you'll need to make, it's worth following these four steps to make sure you're solving the right problems and recommending the right solutions.
1. Review Your Processes
The first step is to take a closer look at your processes. Very often, even the most common processes go undocumented (or at least the way they're executed in real life doesn't reflect what's been documented). The key is to look for processes that call for serious improvement. That might be processes that rely on a lot of paper or even processes that contain a lot of clunky, repetitive tasks.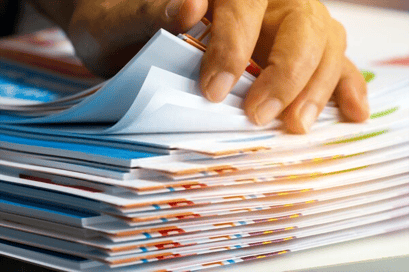 Managed Print Services (MPS) offer advanced analytics that can help you quickly identify clunky workflows with a high print output.
One of the smartest ways to understand how information flows through your organization is MPS, which offers analytics on your devices, users, documents, processes and print data, plus maturity assessment tools to help you identify any bottlenecks.
2. Choose A Process
Select a process from your shortlist that can be digitized and automated with minimal office disruption or re-engineering required. You're looking for something that can have a big, demonstrable impact on the people involved – while still being relatively easy to digitize or automate.
If you're struggling to decide, go for the process that executives are most interested in transforming. By proving to them you know a reliable route to digitization, you'll be able to get their buy-in for broader transformation later in your journey.
3. Transform That Process
Identify the process users, and involve them from the start. Hold a workshop on day one so you can map out the existing process and highlight core issues and objectives together.
Then, map out your agreed vision. To do that, you'll need to assess any potential effects on other processes or departments and specify costs and expected results.
4. Repeat
Once you're happy with the results of your first switch from print to digital, you can apply the same method to other processes. The benefits of each iteration will grow exponentially as each of your newly-optimized processes start coming together and your people become empowered by efficient, more streamlined processes.
Over time, you might even decide to focus on whole departments that are particularly paper-driven like finance, HR and legal, that could be liberated by digital makeovers.
If you're unsure, talk to the experts.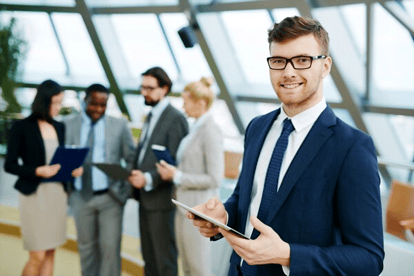 You may be surprised how readily processes can be automated without changing anything fundamental: with just the right kind of software magic to get existing systems talking beautifully to each other.
We've done it with processes as diverse as employee on-boarding, expense validation, vendor contract lifecycle management, and account opening.
Read the full original content here.