In this period of the COVID-19 pandemic, we are living in unprecedented times. One only needs to go to the grocery store to see how we are all taking precautions, not only for our health, but for the health of those most vulnerable and at risk to this virus. Prior to this pandemic, seeing someone wearing a face mask was rare and now it has become commonplace in our daily lives. If you are going out in public for essential shopping, it has become highly recommended or mandated to wear a face mask. If you are an essential front-line worker, especially in health care, it is essential to wear a protective face mask for long periods of time.
Wearing these face masks for long periods of hours can be an extremely uncomfortable and daunting task, not only for breathing, but also for your ears. Having the straps rub on the back of your ears can be very irritating, especially if you are wearing them for extended periods of time like nurses and doctors are having to do during this COVID-19 pandemic.

To help provide relief and comfort for those on the front lines of battling this pandemic, the team at Green Office Partner has created a new, 3D printed, Face Mask Comfort Strap. The Comfort Strap, designed by Green Office Partner's CTO, Brad Haun, helps relieve pressure and irritation from the back of the ears, by transferring the pressure to the Comfort Strap, which sits at the back of the head. The Comfort Straps are printed by Green Office Partner on 3D printers and have been donated to Access Community Health Network.
Green Office Partner is donating the Comfort Straps to hospitals and clinics. To request these straps, please enter your request in the comment section below. We will donate as many as we are able to produce.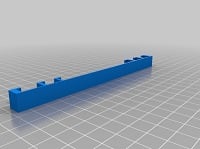 Brad Haun has made the design file available on-line for download, so other 3D printer owners can print and donate the Comfort Straps to essential front-line workers in their communities. You can download the comfort strap design file from: https://www.thingiverse.com/thing:4268702