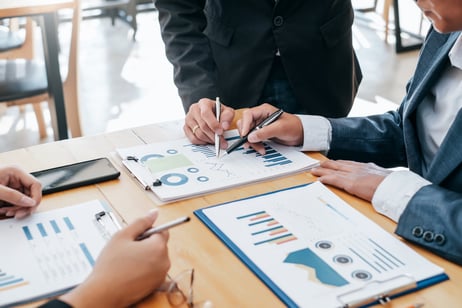 Did you know that unmanaged office printing costs now rank among the top four business operating expenses in most companies? It's true! Without an effective way to manage what you print and how much you print, you too could be spending as much on printing hardcopy documents as you spend on utilities, rent and communications. Take a look at the scenario below to see the difference between an unmanaged and a managed print environment and determine what may make sense for your office.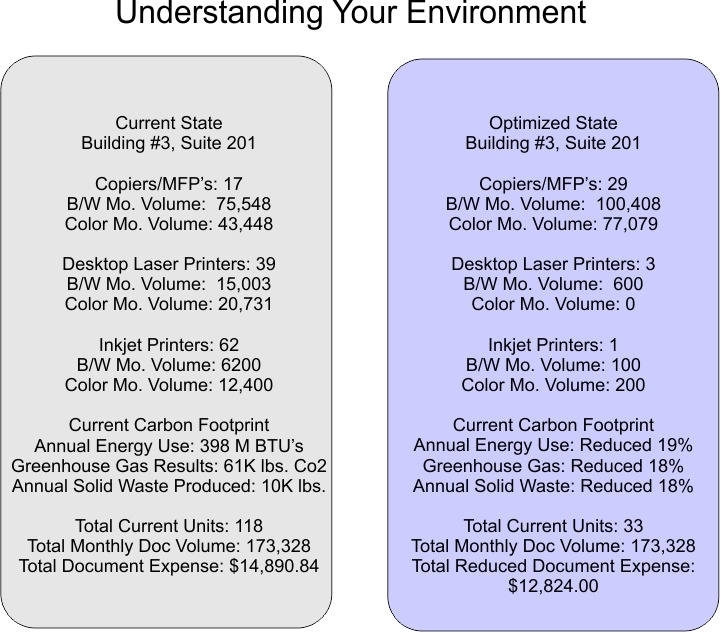 The first step would be to contact Green Office Partner for a free print assessment. We will be able to show you the security measures and the cost-savings we can provide. If you are looking for more reassurance, then please review the following information:
Review an actual assessment: Click here to see a financial services assessment.
Watch this short video explaining the benefits of managed print services.
Finally, we are proud of our client video testimonials.
Bottom line, Green Office Partner lets our clients focus on their core business... not printer related headaches and security breaches.
Our assessment typically involves 10-40 hours of analysis, therefore, to give you an accurate assessment, we will need specific information from the person who would have data pertaining to:
Your existing managed print services or copier contracts.
The toner, parts and maintenance invoices for all printers and copiers.
How many print related invoices do you process per month?
What is your monthly IT expense related to printers/copiers?
Outsource expenses. How much do you spend on outsourced printing per month (i.e. Fedex Office)
Contact info for your location contact who can explain the top 3 headaches related to print/copy/scan/fax.
Click here to schedule a time for your assessment specifically for financial and wealth management organizations, or contact Chris Gallagher at Green Office Partner a Xerox and HP Channel Partner. 312-399-5299 or cgllagher@greenofficepartner.com