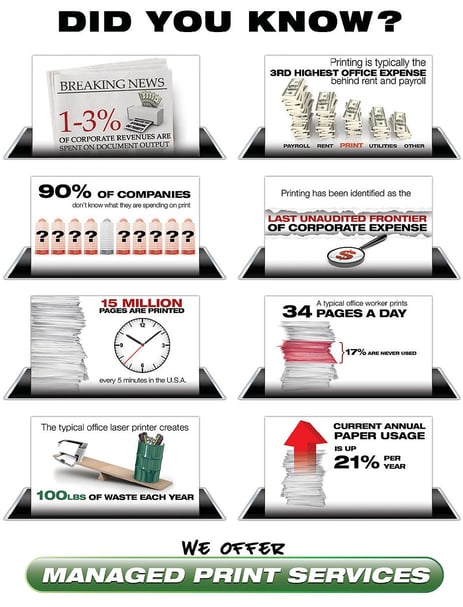 Most people don't wait until they are on their death bed before seeking medical attention. They visit their physician for an annual check up or in some cases visit more frequently to monitor overall health by having tests performed every so often. This is referred to as preventative maintenance.
Wouldn't it be great if every person could be remotely monitored by a medical facilitator and if their vitals showed signs of a potential problem, the person would be sent a message to visit their physician?
So if this philosophy make sense for your body then why not your managed print services for your business? Why do so many businesses wait until the printer stops operating or runs out of toner before they contact the print doctor, aka, technician? Especially since 24/7 remote monitoring is available for printers thus preventing problems before they occur. Even toner is automatically ordered as needed eliminating the need for massive inventory. Just in time inventory reduces capital requirements and thus frees up more operating finances.
Green Office Partner offers managed print services so call 312-399-5299 and ask for Chris to schedule a no-cost, no-obligation CFO assessment today.