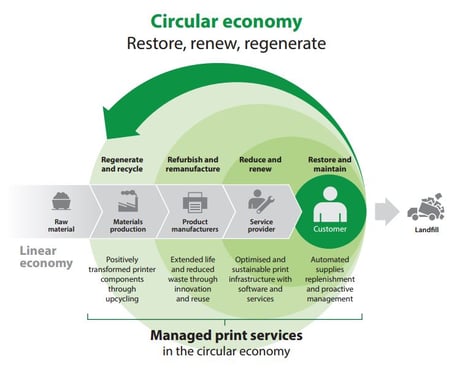 Grow your sustainability efforts with MPS. Green Office Partner and HP have long been innovating product designs and business models to reduce waste and promote the restoration and regeneration of resources.

One of the new frontiers for sustainability is based on a circular economy model that aims to eradicate waste through new approaches to asset creation, use and disposal. Managed Print Services (MPS) is an example of HP's emerging strategy around the circular economy—helping you extend the life of resources currently in use while finding new channels for material, component, or product reuse.

Through a service-driven model, MPS enables you to optimize your printing and imaging infrastructure, implement continuous improvements in response to dynamic needs, and develop sustainable value creation business models.

Partner with Green Office Partner and HP to determine how MPS can help you optimize your imaging and printing infrastructure and participate in the circular economy. In the process, you'll see typical savings of 10–30 percent in printing costs, millions of pages in reduced paper waste, and typical reductions in energy usage of 20–40 percent.