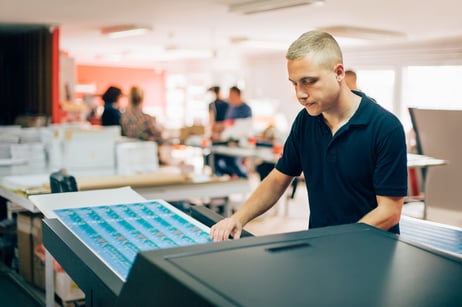 I'm amazed as to how many businesses are still purchasing copiers for their operations. Hello... McFly? These CEO's or CFO's must living under a rock or something. As the headline to this article implies, they are probably still using a typewriter and white out as well.
Time to go back to the future and discover the world of managed print services. So for those of you who do not know what managed print services are, let me enlighten you and welcome to the 21st century. Managed print services consist of having a company like Green Office Partner maintain and take control over the copiers/printers utilized for your business. A managed print service provider will place printers, copiers, MFP's, in your business for a cost per copy monthly fee. Kind of like leasing with a maintenance agreement included. Unlike the leases of yesteryear, these programs offer some really great features.
Maintenance before it is needed-
Like an automobile computer that warns you that you need to change your oil, the computer inside a copier/printer tells the service provider how the machine is operating and what it might need as well. It's basically a constant diagnoses so your printer is seldom ever down and out when you need it most.
Usage monitoring-
Many business used to purchase a copier than was intended to produce 25,000 copies a month but in reality the company was going to be making over 40,000 copies per month! Quite a difference and the increased volume puts additional stress on the copier/printer parts and maintenance. A machine that should have lasted at least 3-years is on it's last legs after only 18-months. Print managed service providers can watch the usage of the machine due to a metering system that is inside every machine. If the usage is far more or far less than anticipated, the service provider can switch out the machine for a better fit, thus reducing the cost of operation and greatly reducing any downtime. This same system will also tell the provider how many color copies are being generated versus black and white. Professional service businesses like attorneys, accountants, banking, etc., will use far more black and white printing than they will color, so why pay for color availability if it's hardly ever utilized? A black only laser printer offers a far more affordable cost per copy.
Fulfillment of supplies-
Simply, this is JITI (just in time inventory). Instead of having a closet full of toner for 14 different machines, some of which you probably don't even have any more, the monitoring system tells the provider when to deliver toner and for which machine. The business operation never runs out of toner again and cash is not tied up into unneeded inventory.
There many other reasons to stop buying your business level printers and copiers, but I'll let the pro's at Green Office Partner tell you about these. Call them today for a 15-minute print assessment that could greatly improve your operations while reducing overall costs.