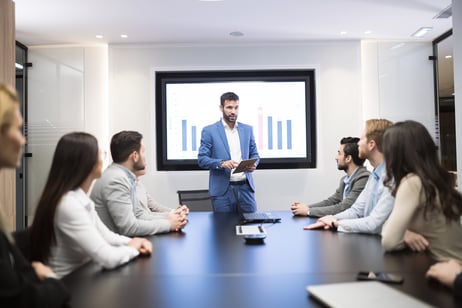 Small to medium-sized businesses (SMBs) are the backbone of the US economy. Unlike larger enterprises, SMBs have less people, fewer resources and tighter budgets. Achieving success requires the ability for office workers to stay focused on mission critical priorities and eliminate avoidable expenses.
Managing business printers, copiers, service, and balancing supply inventories aren't usually part of an office worker's job description, yet these low value tasks have to be done by someone. Especially in the majority of small and medium-sized organizations that are still very reliant on paper documents.
"Unmanaged office printing costs tend to rival other SMB operating expenses such as rent and utilities in most offices."
Here are some compelling stats that have prompted business leaders to rethink how and why they need to make the shift from an "unmanaged" to a Managed Print environment:
90% of SMBs have no print rules to control usage and costs

17% of printed pages are never used

20-30% is the typical cost savings in a Managed Print environment
Enter Managed Print Services (MPS) - an easy way for any business to remove the burden of print-related tasks from knowledge workers who need to do more with less – and for less.
Here are some of the common Managed Print benefits that appeal to most SMB leaders looking to boost worker productivity and reduce avoidable expenses:
Predictable monthly expense

One invoice for all print-related expenses

Less paper and waste

Automated supplies replenishment

Proactive service

Improved document security

IT people not distracted with print-related issues

Empty cartridge recycling
Still wondering if your business is a candidate for a Managed Print approach? New software apps make it easy to capture fact-based data on actual print volumes by device, perform cost calculations and show you where you can reduce your dependency on paper with a greener office strategy.
Take the SMB Office Challenge today and receive a Free office print policy guide full of money saving best practices.